19 Oct
Because W.I.A.W. really means what I ate this weekend...the t is silent:) No but really, I've been wanting to share my pictures of this weekend since Sunday night but my blog has been upset with me. Whenever I try to upload pictures it takes forever and by forever I mean an hour and a half to upload 10 pictures…if it doesn't freeze and stop unloading all together. My IT guy, Rob, is a little under the weather and not quite up for being awake let along fixing my blog issues so I'm going to power through this along…bear with me.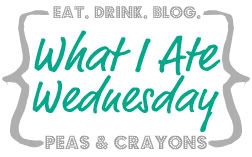 I briefly mentioned in my last post that I successfully finished my 17 mile training run last Saturday morning and not to brag but I am very proud of myself! I was concerned but went into it with optimism and although the last 4 or so miles hurt I got through them!
"If it were easy everyone would do it,"
was playing over and over in my head. Another thing I found comforting is that although my hips, knees, and ankles were not hanging in there my spirit and my cardiac endurance was not, which most likely can be contributed to the Galloway method.
It gives me lots and lots of hope for my next 3 long training runs and finally the marathon!
I focused on fueling myself pretty well of this run since I read an article about how important fuel is and with my low iron levels I know that my energy can drop pretty quickly. Friday night I met with my friend Shay, who I've known since high school and was my roommate freshman year. We hadn't seen each other in forever and we went to a few UCF classics, Lazy Moon and Jeremiah's. It was my first time and lazy moon and it was pretty good but in terms of hipster pizza places I think I still prefer Mellow Mushroom.
Remember how I mentioned Rob being under the weather…well it may have been because he made some not so smart decisions that brought down his immune system on Friday night when he went home to visit his friends…if you see where I'm going with this. But on Saturday after a day filled with sleep he was up to coming back to Orlando so on Sunday we could go to Disney!
I think it goes without saying that I ate pretty well this weekend. And let me direct your attention to all the sweets I ate. It's becoming a problem. I'm working on it but I can't seem to go cold turkey. Especially not when I bought 2 dozen Publix Chocolate Chip Cookies for my sick boy and somehow have ended up eating 3 already.
Good news on the tech side though, the last two pictures uploaded super fast…there is hope! 
Questions for You?
What is longest you've run, bike, walked, hiked, etc? And how did you pull through it?
Best thing you've eaten recently?I'm going with a tie between the sweet potatoes and pumpkin mousse!
Favorite Halloween candy?