The VitaMix blender is a great kitchen tool, but it is expensive, so it's not a blender I recommend for everyone. In this review, I discuss why I bought the Vitamix blender, how I use it, what the pros and cons of the VitaMix are, and what you might buy instead of the VitaMix blender.
Plus, I'll share a few of my favorite VitaMix recipes. First some background: As a food writer, I give all of my kitchen tools quite a workout. But I don't use them all every day. And some are kitchen tools I wouldn't own if it weren't for my job.
By contrast, the VitaMix blender is something I bought originally just for me. Now, however, I find that I use this blender almost every day for everything from fruit smoothies to sauces.
That's why for me, this was a low-cost investment (expensive yes, but on a per-use basis, it's actually cheaper than my gravy boat, which gets used about once a year). Read on to see if the Vitamix 5200 is worth your money.
Reason for Buying a VitaMix Blender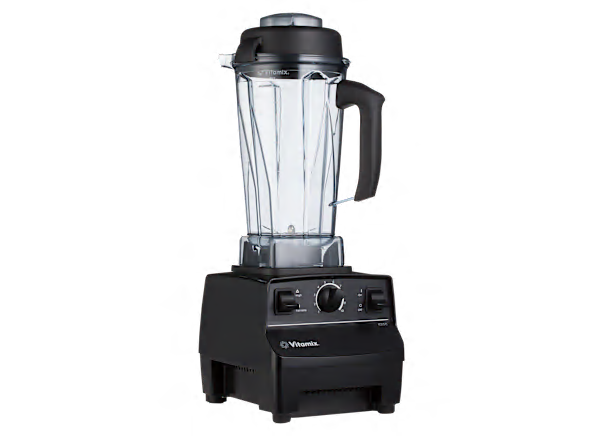 My no one reason for buying a VitaMix blender was making fruit smoothies. I probably make a fruit or vegetable smoothie at least 4 days a week. Plus, I am always creating new smoothie recipes in my work as a food writer. The secret to a great smoothie is using frozen fruit. Yes, you can add ice, but it will make the smoothie taste watered-down. The only way to get that frosty, milkshake-like texture is to use frozen fruit.
And despite what other blenders claim, they won't crush frozen fruit well. Even the blenders with ice-crusher features don't do the job. Because I was going through blenders at a rate of one every three months or so (and most didn't work well when I had them), the VitaMix ended up being cheaper for me.
I've had my VitaMix blender for about 8 years and the motor has never burned out or slowed down, and it crushes anything I put in it, including whole oranges, perfectly.
How to use Vitamix blender
Ok, so making smoothies was my #1 reason for buying the VitaMix blender. But I have found that I use it for many kitchen jobs, just as the infomercial promises, including:
I use the VitaMix blender to puree soups, like my famous broccoli soup (I think it rivals the best restaurant broccoli cheese soups). This way, I don't have to use cream to thicken my soups. Just pureeing the vegetables makes the soup thick and creamy, like a bisque.
I use it to make bread crumbs, graham cracker crumbs or crushed gingersnaps for my pumpkin cheesecake recipe. I also use it to make pretzel crumbs for my pretzel crusted chicken breasts. Takes just a second, and it's so much cheaper than buying bread crumbs or crushed graham cracker crumbs.
I use the VitaMix when I need to blend something quickly, like the batter for my dutch baby pancake recipe. I can just dump all the ingredients in, blend in 2 seconds, and pour it into the pan to bake.
I use the VitaMix to make some sauces and salad dressings, but I think a food processor works better for some of these tasks
What I dislike about Vitamix Blender
The VitaMix commercials and web site would have you think you can throw out every other kitchen tool you have, because the VitaMix does everything from chopping onions to making peanut butter. While technically it may be possible to make those things in the VitaMix blender, I don't recommend it.
For onions and vegetables, you won't get a clean, even dice with the VitaMix. You're more likely to get onion shreds or onion puree. I would prefer Blendtec blender for this. You can learn more about the difference between Blendtec and Vitamix blender here.
The VitaMix also claims that it can make nut butters. I love making gourmet peanut butters, but I have found the VitaMix is not the best tool for that job, mostly because nut butters are thick and get stuck in the blades.
A food processor is just faster and easier to clean for that task. Likewise, I don't use the VitaMix to make pesto or salsa. I prefer a chunkier pesto or salsa, and I found myself overprocessing the pestos and salsas when I made them in the VitaMix.
It's a personal preference, I guess. If you don't have a food processor, the VitaMix would certainly work for these tasks. I'm just saying I wouldn't buy it specifically for those jobs.
Pros of Vitamix Blender
1) The VitaMix is extremely powerful.
Specifically, it crushes frozen fruit better than any other blender I've tried and makes wonderful smoothies.
2) It does a lot of other kitchen jobs well, including pureeing soups, making sauces, making cookie or graham cracker crumbs, etc.
3) It is easy to clean.
Just pour a few drops of dish detergent in the VitaMix, add some hot water and blend on high. Rinse and you're done!
4) The container of the newer VitaMix blenders is BPA-free.
Or if you have an older VitaMix, you can replace it with newer container
Cons of the Vitamix Blender
1) Price.
This machine is darned expensive. Think about how you will use it and when you will use it.
2) It takes up a fair bit of counter space.
It's not just the footprint of the VitaMix itself, it's the height as well. If you have overhead cabinets over your counter, you may not be able to fit it. You can, of course, store the VitaMix in a cabinet, but I use mine so often, I like it on the counter.
3) It's noisy.
If you live in a small house or apartment and don't want to wake up the family while you're making your morning smoothie, the VitaMix may not be for you. It was built for professional kitchens and sounds like it.