Exercise bikes are great for maintaining your fitness and daily cardio. They are alternately referred to as stationary bicycles, indoor bikes or studio cycles. Whichever label you prefer, exercise bikes continue to be among the most popular home fitness equipment.
The real beauty of an exercise bike is the fact that you can use it almost anywhere. Whether you're in front of the TV, listening to music, reading a book or watching over the kids, an exercise bike allows you to squeeze in an effective home workout. Of course, since exercise bikes are so popular, there are a lot of them to choose from, which can make selecting the right model for you a difficult task.
Types of Exercise Bikes
There are several different designs of exercise bikes, including the upright bike, the recumbent bike and the spinner. The upright exercise bike perhaps best mirrors the style and ride of a traditional road bike; you sit on a small seat, back unsupported with the pedals positioned directly below you.
A recumbent exercise cycle features a larger, upright lounge chair-style seat that provides support to the lower back, with the pedals situated in front of you rather than below; as a result, the seated position is similar to the one that you use to drive a car.
The third notable type of exercise cycle is the spinner, which is popular in health club spinning classes but is less widely used as home fitness equipment. There are also several exercise bike models that offer simultaneous upper-body workouts.
Buying an Exercise Bikes in UK
It is important to shop wisely for any home exercise equipment, in order to insure that it is something you will use on a regular basis; as such, you should avoid trendy or cute equipment. Aside from cost, the most important feature to consider when selecting an exercise bike is comfort; if it isn't comfortable, you are very unlikely to stick to a regular exercise schedule.
The seat of the upright exercise bike should be adjustable and comfortable. If you are buying recumbent exercise bikes, then make sure seat is lock securely in place. If you are looking for top quality exercise bikes in 2019, then go Schwinn model. They comes in lot of features and durable, lasting for many years without any maintenance.
The only way to ensure that an exercise cycle is comfortable is to try it out. If you intend to share the exercise cycle with other household members, have them try the bike out as well; what is comfortable for you may not be comfortable for others.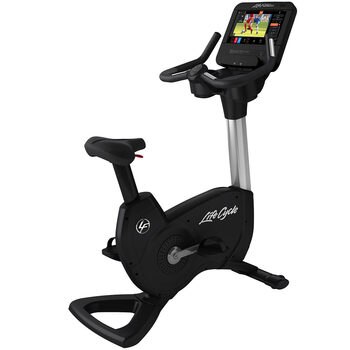 Benefits of Exercise Bike
There are various benefits of using exercising bike, other than providing fitness and greatly improving your immune system.
Burning Calories: Upright exercise bikes are great tool for burning your calories quickly. Managing your weight becomes easier if you are able to shed more calories in a day. At an average you can burn more than 250 calories in half an hour.
Muscle strengthening: Exercise bikes can greatly strengthen your leg, thighs, back and hamstring muscles. Exercise bikes also put less stress on knees compare to other fitness equipment.
Tracking your data: Most of the new model of exercise bikes have features to connect to other devices via Bluetooth. So, your workout data can be transferred to PC or smartphone where you can easily track your progress. This means your workout data is transferred and stored so you can track your progress.